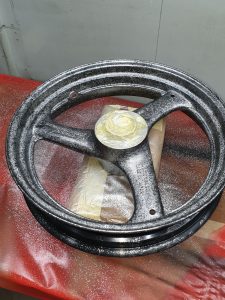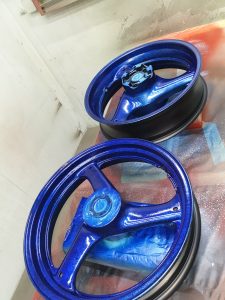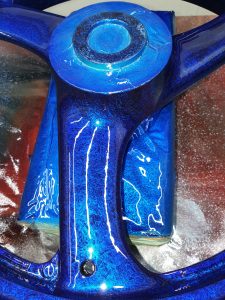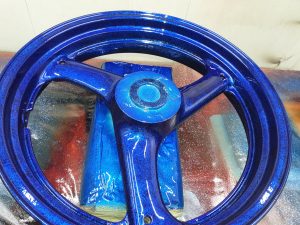 CANDY MARBLE PAINT – REGAL BLUE WHEELS
These wheels are for a very special project that we are building.
They were blasted and powder coated black, scotched to form a good key and a perfect base for our paint to go on!
To start with the wheels were painted with one coat of our aerosol pewter silver marble and then stippled with screwed up cling film to get the random marble pattern. Its a lot simpler than most people think!
After an hour or so, candy regal blue was applied over the marble. We used four coats just to make sure that rich deep blue really shone.
To complete it, we applied our "Just like glass" lacquer and voila! Stunning candy marble paint!
If you like this paintjob and want something similar just give us a call and we are more than happy to talk to you about making your marble dreams come true! If you want something totally different we can also advise on what colours would look best and make your bike be the envy of everyone!
Our sister company Complete Cafe Racer sell parts which will give that last little details the glow they need to make your paintwork amaze everyone who sees it!