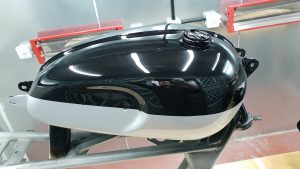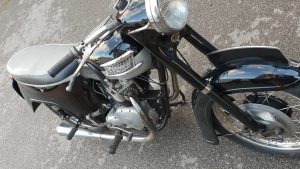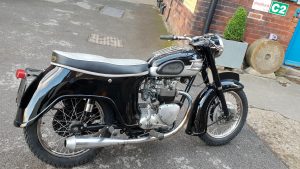 RESTORATION PAINTWORK – TRIUMPH T100
We do offer a restoration paintwork service where we will get your bike back to its former glory!
We fully restored the triumph in our workshop with the careful supervision of Debs (the customer) who also happens to be a good friend who also works on the same industrial estate we do.
To begin with it was painted in black ground coat on the top half of the tank and the bottom half was done in our fine silver metallic base coat. Given this was a restoration we wanted to keep this as simple as possible and avoid our tendency to chuck flake at everything we see!
To finish it off we applied our "just like glass" lacquer to give it shine. Safe to say Debs was absolutely chuffed with it and we still get to see the bike sometimes when she's at work!
If you like this paintjob and want something similar just give us a call and we are more than happy to talk to you about making your marble dreams come true! If you want something totally different we can also advise on what colours would look best and make your bike be the envy of everyone!
Our sister company Complete Cafe Racer sell parts which will give that last little details the glow they need to make your paintwork amaze everyone who sees it!