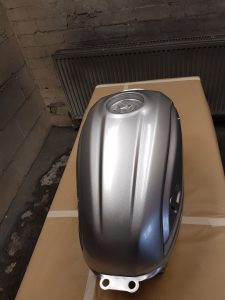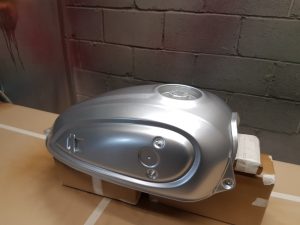 CUSTOM PAINTJOB – MEDIUM SILVER METALLIC BASE FOR DUCATI.
Again another simple and classic one, this often hits people for its understated beauty with a nice classic semi-matte silver. I personally adore it!
This custom paintjob was done on a Ducati scrambler tank and we wanted to keep it nice and simple to let the bike speak for itself.
We painted it in our medium silver metallic base coat which gives it the lovely and simple silver sheen. To finish this job off we finished it in our matte 2k clear which I think gives a nice blend of shine and satin.
If you like this paintjob and want something similar just give us a call and we are more than happy to talk to you about making your marble dreams come true! If you want something totally different we can also advise on what colours would look best and make your bike be the envy of everyone!
Our sister company Complete Cafe Racer sell parts which will give that last little details the glow they need to make your paintwork amaze everyone who sees it! We sell everything from mirrors, to handlebars, to seats, basically we have everything you need to build your dream bike!