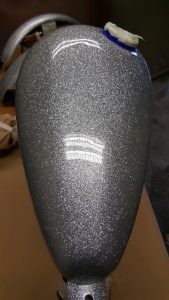 CUSTOM PAINT – NICE AND SIMPLE SILVER FLAKE
Though it may be simple, it is so stunning! This is our medium silver flake painted on to a tank. I do have to quickly say though, although the result is stunning our paint booth looks like the sugar plum fairy has had an all night rave in there! Glitter everywhere, all over our unit, the paint booth, our houses, in Tony's beard!
To finish off this custom paint job we put on a few coats of our "just like glass" clear to give a shine and let all the stunning silver flake do its thing.
If you like this paintjob and want something similar just give us a call and we are more than happy to talk to you about making your marble dreams come true! If you want something totally different we can also advise on what colours would look best and make your bike be the envy of everyone!
Our sister company Complete Cafe Racer sell parts which will give that last little details the glow they need to make your paintwork amaze everyone who sees it! We have mirrors, handlebars, seats, just about everything you could think of to get your bike back to beauty.