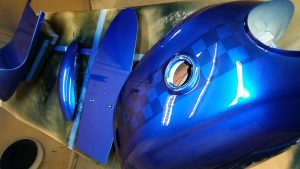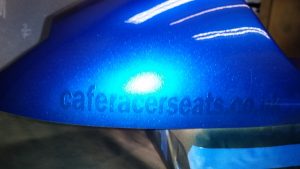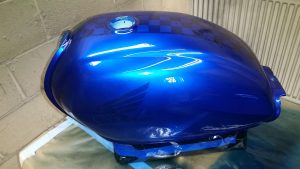 CANDY PAINTWORK ON HONDA CD200 IN REGAL BLUE
This is obviously a Honda CD200. It is painted in a slightly darkened course silver metallic base so that the blue can really pop through.
Following this we masked up the Honda logo, chequers and web address for the decals and applied the metallic silver base. We used chequers as it was something we had been doing for a while (and if we're honest, we had spare masking around!)
We then did the grand unmasking and applied 3 coats of our regal blue candy finished off by 2k clear to give a stunning shine you could see yourself in!
If you like this paintjob and want something similar just give us a call and we are more than happy to talk to you about making your candy paintwork dreams come true! If you want something totally different we can also advise on what colours would look best and make your bike be the envy of everyone!
Our sister company Complete Cafe Racer sell parts which will give that last little details the glow they need to make your paintwork amaze everyone who sees it! There's mirrors, handlebars, seats, basically everything you could possibly need!